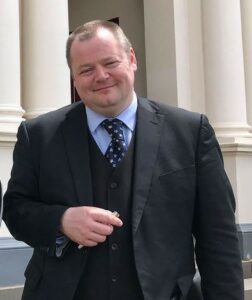 Yesterday we farewelled Rob Southgate. Rob was a much loved and respected employee of Loddon Campaspe Community Legal Centre between 2014 and 2019.  
Commencing first as a student, undertaking research into family violence, Rob brought a lifetime of skills, experience and passion for social justice to his work with LCCLC and our clients. As soon as Rob was admitted to legal practice, he commenced work as a lawyer with our service, focusing on supporting some of the most vulnerable members of the community, including those experiencing family violence.  
Rob's passion for therapeutic justice shone through in everything he did. He was incredibly dedicated to his clients, always going above and beyond, and passionate about addressing the underlying health and social issues that were contributing to a person's legal issues. Rob was instrumental in establishing our therapeutic legal practice in Maryborough, where he built strong personal and professional connections with local legal, health and community groups, and he was a staunch advocate for regional access to justice. Rob was also a generous mentor to his colleagues and student volunteers, always willing to share his time, knowledge and skills with others. 
Rob's passing is a very sad loss for our community, and he will be greatly missed by all those who had the pleasure of knowing and working with him.  
Rob's legacy will live on at the community legal centre, not only through our ongoing work in the projects he was integral in establishing, but also through the numerous students he mentored and other colleagues who were inspired by his passion for justice.  
Our thoughts are with Rob's loved ones.  
Vale Rob.